Pretty R / K wine Crochet Boho hippie crop sweater TOP Shrug
http://www.etsy.com/listing/23962726/pretty-r-k-wine-crochet-boho-hippie-crop
When i was young, I would be so excited to go back to school in the fall as I'm sure kids still are. With so many schools wearing uniforms these days, the thrill of school clothes is probably long gone. But for me it was a time for new clothes and shoes.
I loved back to school shopping! Since there were five of us, we were allowed to get school shoes and new gym shoes, and 5 outfits, one for each day. Mom always supervised to make sure we could interchange the pieces to stretch our wardrobe.
It seems plaid was mandatory and the style in the 1960s. I always ended up getting at least one plaid skirt, I loved plaid and still do. So at least one plaid A-line skirt, and of course a matching cardigan and usually a plain white man tailored shirt created "one outfit"
As I got older I was allowed to shop by myself, but my mothers shopping wisdom always stayed in the back of my mind. Being in high school of course I wanted trendier things, and would buy a few to incorporate, but still sticking to basic skirts and sweaters in the mix.
Of course it was ridiculous to buy winter clothes, when Michigan mornings were cool, but by afternoon it was too warm for them. We proudly wore our new sweaters and wool skirts anyway.
As my own girls grew up I still tried to carry on the traditon of getting that plaid in there somewhere. Back to school shopping wasn't as much fun, since by then we were in Texas, where school starts in August and you can wear shorts almost until October. We would buy a few new pair of shorts and then re shop later in the fall for "real" school clothes..
With so many schools wearing uniforms these days, the thrill of school clothes is probably long gone. Sadly, today's school kids are missing a wonderful tradition. I can appreciate peer pressure, outrageously priced coveted designer clothing, and the relief school uniforms are to the average family. For those still allowed to wear their own clothing it would be so much fun to incorporate some vintage into their fall wardrobe.
Vintage also encourages your child to have their own style.. if they are Skaters, Indie, Emo, Punk, Goth, or just little hippies, there is sure to be vintage pieces to suit each one!
If your kids wear uniforms, you can still "back to school shop" for yourself. Bring back your fond shopping memories with our mothers by adding classic vintage Fall pieces to your work wardrobe, like plaid skirts and pretty cardigans that are timeless and classic, Its a great excuse for some new clothes for everyone!
Here's just a sampling of cute Back To School items from http://weebitused.etsy.com
and http://vintageoutlet.ecrater.com
Tiered Ruffle 60s Cordouroy Peasant Jumper Corset bodice XS S
http://www.etsy.com/listing/15411538/cutest-tier-ruffle-60s-cord-peasant
Vintage 60s Preppy Midi A-Line Wool Buffalo Plaid Skirt S small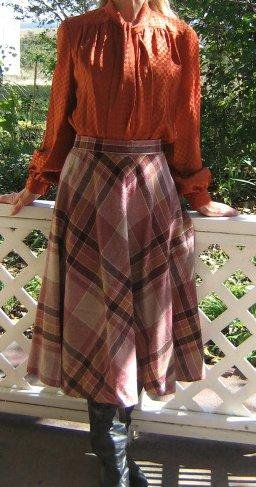 http://vintageoutlet.ecrater.com/p/4194387/vintage-60s-preppy-midi-a-line
Grunge Punk PIERCED Top Gold tone Rings..Zipper Neck vintage S M med
http://vintageoutlet.ecrater.com/p/4214627/grunge-punk-pierced-top-gold
Vintage 60s CUTE Turtleneck Split Skirt Scooter Jumper M L
http://www.etsy.com/listing/14615897/vintage-60s-cute-turtleneck-split-skirt?ref=v1_other_2