Pins are fun, and a great way to express your feelings, your hobby, your favorite things. They are easy and inexpensive to collect, small to store. Great conversation starters, pins or brooches are a wonderful fashion accessory even if you aren't a "jewelry person" ~ just pin your favorite brooch on a coat, jacket, sweater or blouse and enjoy the compliments!
Like most of us, Madeline Albright loves a good flea market, or an antique store. And like many of us she loves a pretty or an interesting brooch.
Last year while promoting her new book "Read my Pins" I became fascinated with her. Ms. Albright was our first female Secretary of State, a challenging job on its own; most likely more so when you have to prove yourself for being a woman in that position. She was interesting, charming and witty on these promotional talk show interviews, a completely different side of her than we were used to seeing.
I was reminded of that interest recently as the Smithsonian is doing a special exhibit on her many brooches.
The former Secretary of State has an amazing collection of pins, that she would use to her advantage "politically." According to the Harper Collins book description:
"Before long, and without intending it, I found that jewelry had become part of my personal diplomatic arsenal. Former president George H. W. Bush had been known for saying "Read my lips." I began urging colleagues and reporters to "Read my pins."
Despite her important and very serious role, she has a wonderful sense of humor. She took President Bush's "read my lips" one step further with her own "read my pins". The fashion legacy began for her with the Iraq media comparing her to an "unparalleled serpent". On her next trip to Iraq, Ms. Albright wore a snake pin; and the trend began.
Meeting Nelson Mandella? why a zebra pin! Russian president Vladimir Putin ~ "Hear No Evil, Speak No Evil, See No Evil". On a good day, just a flower pin. Being kept in the dark? a mushroom pin of course! A different brooch and a different way to express her feelings various official missions of state.
Pins are a great way to express yourself, and there are unimaginable pins available! From romantic and elegant to whimsical. Vintage bouquets loaded with rhinestones, cute animals, characters, fruit, flowers, pets, favorite places, and from abstract to realistic, these little pieces of jewelry are most often works of unique art.
Pick up her book or try to see Ms. Albright's collection at the Smithsonian, then touring the US, and in the meantime, here are some fun and beautiful pins for you to consider starting your own personal fashion statement!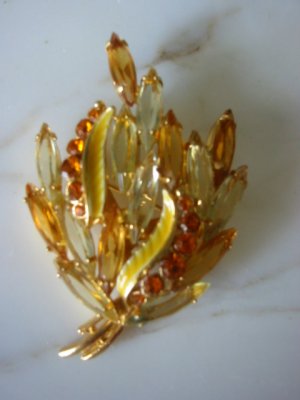 or more beautiful costume jewelry in my ecrater shop:
http://vintageoutlet.ecrater.com/c/735510/jewelry