Almost every vintage lingerie lover will name an Olga nightgown as one of their favorite gowns. The styling, fabric, design were trend setters, and often copied by other lingerie makers. No one could duplicate an Olga exactly, though many came close. The superior construction of her complete line is a testament to quality, as there are many thirty year old items that still look like new.
And yes.. there really is an Olga. In 1941 Olga Erteszek and her husband immigrated to the United States from Poland, fleeing the Nazi army. In California, she worked in a sweatshop making lingerie; taking a trolley to work.
It was on this trolley that the concept of business was conceived for Olga.. she noticed a woman across from her with her nylon hose rolled to her knees. Olga felt there should be something nicer and more feminine for women to hold their stockings.
With $5.00 and a rented sewing machine, Olga created lace garter belts for women. The garter belts sold immediately to Bullocka-Wilshire, and her dream began. Olga created lingerie items that flattered a woman, while attractive to a man.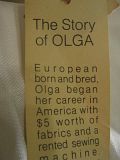 As a woman, she knew what "problem areas" most of us had, and created spandex blend fabrics to gently hold and support tummies while holding the bust in place. A true genius! There is an Olga gown to flatter any woman's style or taste, from flannel and demure to lacy and frilly with dramatic full sweep hemlines. During a hospital stay, Olga discovered the need for bust support and created the "Sleeping Pretty" line in 1966 which featured a very softly lined, comfortable bra built into a nightgown.
Olga also created the first line of "seamless" bras and tummy trimming panties. The Olga product line created amazing lingerie, from slips and camisoles to luxurious pajamas. With three daughters, she also had a limited, very exclusive line named for her daughter Christina.
Olga's company grew, to over 2000 employees and 17 designers. As well as a successful line of lingerie, she was also very successful in the business world. She held the woman's record for patents ~ with over 28 of them. Olga was one named by Fortune 500 as of the 100 best companies to work for in the United States, and was one of the first to initiate profit sharing for her employees. She won numerous awards, humanitarian as well as Industry design and fashion as well as California Industrialist of the Year Award for lifetime achievement..
According to her obituary, by 1984 the Olga Company; now public had reached a volume of $67 million. The company was sold that year to Warnaco (warner's). Warnaco is still producing under the Olga name, but has sadly discontinued the nightgowns, only offering bras and panties.
Daughter Christina stayed on as a designer for the line "Olga's Christina" for Warnaco. Christina designs for her own company, "Intimate Health" and sells earth friendly all organic cotton bras and panties to help prevent bacterial infections, as well as the "Brassage" a massaging bra designed to help prevent breast cancer, a cause dear to her, as that is how her mother, Olga died in 1989.
There is an Olga style for everyone, demure brushed flannel, sexy sweeping dramatic, to even innocent baby doll nightgowns, do try a vintage Olga nightgown. The minute you slip it on, you will understand what the fuss is all about.
And of course, here come's the shameless plug, lol.. i was fortunate to obtain some fabulous NWT olga's from the grandaughter of an Olga employee..and still have just a few left!
Olga Babydoll Nightgown & Matching panties, NWT:
http://vintageoutlet.ecrater.com/product.php?pid=6770205
Demure Brushed Nylon Olga Nightgown: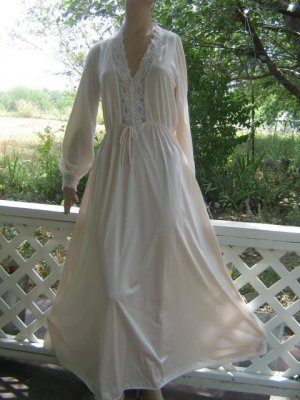 http://vintageoutlet.ecrater.com/product.php?pid=6769910